The fasting month of Ramadhan is the ideal time to savor traditional cakes to break the fast, several of which are only available during the holy month.

Every region has its own unique plethora of special Ramadhan delicacies. In South Kalimantan, bingka is a traditional cake relished by scores of people to break their fast.

For several Banjarese, the majority ethnic group in South Kalimantan, Ramadhan seems incomplete without enjoying the bingka cake that adds to the sweet memories created during the holy month.

Bingka is one of the 41 cakes in the Banjar tradition served on special occasions, such as weddings, thanksgiving for a new born baby, and Ramadhan. It is sweet in taste and has a soft texture, and as a rule, it is baked with floral prints, or locally termed as "kembang goyang," literally meaning rocking flower.

"There is a philosophy of 'kembang goyang'. It represents the life of human beings that is not always smooth. There are ups and downs, good times and bad times," according to Rafi Sujing, who runs the bingka production house Bingka H. Thambrin Salon.

Sujing has led 20 workers during the fasting month to produce 1,100 bingka a day, sold at Rp45 thousand per piece. He offers three variants of bingka: potato, potato-cheese, and potato-fermented cassava.

Some traders also offer other variants, such as jackfruit bingka, pumpkin bingka, and pandanus bingka.

"We only make bingka during Ramadhan and also made to order," he remarked.

Production during Ramadhan this year has increased to 1,100 a day after having dropped sharply in 2020 to only 600-700 pieces a day owing to the COVID-19 pandemic.

"Before the pandemic, we could make 1,500-2,000 cakes and had employed 35 workers," he recalled.

The Bingka production process at Rafi's production house begins at 4 p.m. local time and ends at 11 a.m. local time the next day.

Female workers begin the process by readying ingredients for the cake: wheat flour, sugar, duck eggs, boiled and shredded potatoes, and boiled coconut milk. However, the potatoes are not blended but shredded to maintain the coarse texture.

At midnight, male workers take charge of the kitchen and start making the dough during which the cake mixer is not used. They then bake them in 15-cm diameter baking pans for an hour and a half with upper heat and 30 minutes with bottom heat.

Rafi has seven gas stoves, with a capacity to bake 21 pans at once, and some smaller stoves, with a capacity of 11 pans. The gas stoves have replaced the old wooden stoves as demand continued to rise.

Legendary recipe

The Banjarese believe that the original recipe of bingka was created by Princess Junjung Buih of the Negara Dipa Kingdom and the ancestor of Banjar Kingdom's Sultan Suriansyah, the forefather of the Banjar ethnic group.

According to legend, Princess Junjung Buih made the cake only for the palace's noble guests. It was a special culinary delicacy for aristocrats at the time. Its sweet and soft texture took them by surprise.

Banjarese have followed a tradition of serving 41 types of traditional cakes at some cultural and religious events. It was originally a Hindu tradition of offerings made to the spirits, so they do not disturb the people's lives.

Each cake has a different shape and color that held different meanings. Cakes served during the special occasion comprise bingka, kararaban, kikicak, bulungan hayam, kelalapon, cingkarok batu, pais waluh, wadai gayam, amparan tatak, pundut, and ipau.
​​​​​​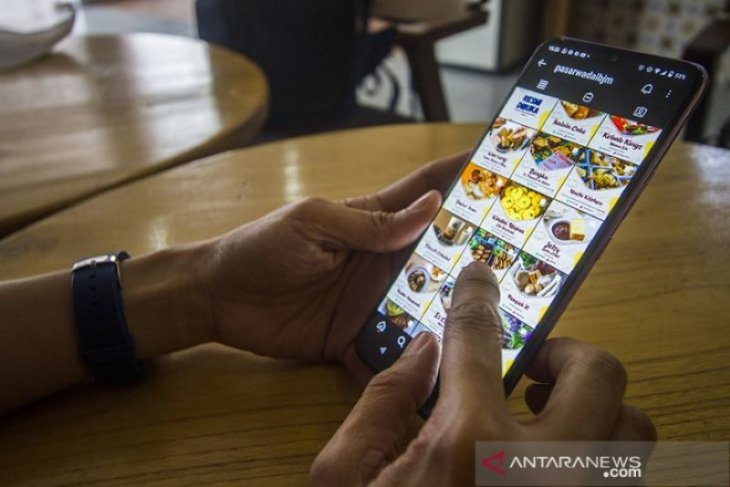 Online Ramadhan market

These 41 traditional cakes can still be seen every year during Ramadhan when the Banjarmasin government organizes the Ramadhan market where dozens of traders sell an array of food and beverages.

However, in the wake of the COVID-19 pandemic, the Ramadhan market is organized online since 2020 to avoid crowds.

In 2021, at least 145 traders have participated in the event facilitated by the Banjarmasin administration through its official Instagram account.

The annual market was launched by acting Banjarmasin Mayor Akhmad Fydayeen on the first day of Ramadhan on April 12.

"Banjarmasin's Ramadhan market has been included in the city's calendar of events. We are upbeat that this online market would not lower the people's enthusiasm to shop and enjoy traditional culinary delicacies to revive the micro-, small-, and medium-scale enterprises engaged in culinary arts," Fydayeen stated.

Head of the Banjarmasin's Culture and Tourism Office Ikhsan Al Haq remarked that the market was held virtually for the second time through its Instagram account.

Ikhsan revealed that the total turnover during the online Ramadhan market in 2020 had jumped to Rp2.7 billion, from Rp900 million in 2019.

"When the Ramadhan market was held offline in 2019, the total turnover was recorded at Rp900 million," he stated.
https://en.antaranews.com/news/173310/creating-fonder-memories-during-ramadhan-with-sweet-bingka